This fundraising event was commissioned by the social club of the Malvern Football Club.. The client engaged Parti Theme Event Decorators for Prop Hire and Installation
PROP HIRE
As with most of our clients, the process began with a google search, followed by the discovery of our extrordinary Parti Prop range. Inspiration soon followes as does the an urgent phone call to see if the props are available. Once establishing the props availability, Tracey promptly booked the props with the assurance that members of her committee had the design well in hand and would be ther on the day to direct our installation people...which they did expertly.
ENTRANCE (FIRST IMPRESSION) THEMING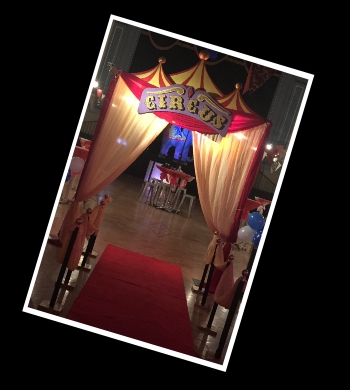 The Circus Entrance Prop looked amazing in the Malver City Hall. This beutifully restored building was the perfect backdrop for our vintage style props...transporting all the guests back in time to the era of the Big Top and the greatest show on earth. This amazing Entrance Facade fetaures Red and Yellow Turrets, Old-Style Circus Signage, lashings of Chiffon and when combined with a 4 metre Red Carpet Runner and Bollards it created a wonderfully special welcome for all thos that attended.
ROOM (MID-LEVEL) THEMING
Our client opted for The Lion Cage, Tiger Cage, Popcorn, Hotdog Stand and Fairy Floss Stand. The Lion cage is without a doubt a must in any Circus Theme Line-up...its always a favourite photographic backdrop resulting in a tonne of pic's and wonderfull memories. The Side Show Alley stands are a must for providing much needed platforms for food and beverages but they also pack a wallop aestetically adding that thematical focal point to keep you in place and time...I also always recommend having some kind of prop to strengthen the theme in every direction so that the eye and mind is constantly distracted from the real surroundings (real life infrastructure) to the fantasy setting...a place where we can all escape, relax and focus on the celebration...at least for just a little while.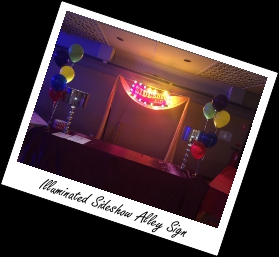 CEILING (HIGH LEVEL) THEMING
Festoon lighting and old style triangular bunting were the ceiling theme hero's of this event. The festoon lighting (100 mtrs) not only provided an abundent level of lighting but combined brilliantly with the buntying to add to the feel of a by gone era where light bulbs were the height of lighting technology.
INSTALLATION
Despite having lost my assitant to illness on the day the whole event only took 6hrs to install. With the help of the wonderful East Malvern Football Clubs volunteers we were able to install all the theming elements without a hitch. The Malvern Town Hall had great access, power and parking and staff were very obliging...thank you to all.
For all telephone enquiries please call Mobile: 0432 822 901